Working with Casa de Esperanza de Los Ninos
The House of Hope for Children
Casa de Esperanza de Los Ninos provides a safe home for children in crisis due to abuse, neglect, or the effects of HIV. At the Arnold & Itkin Foundation, we are always proud to find new ways in which we can support their mission. Regardless of whether we looking to raise donations following a natural disaster or helping make the holidays a little more magical for the families in their program, we are proud to support this Houston organization in their efforts.
Donating Supplies After Hurricane Harvey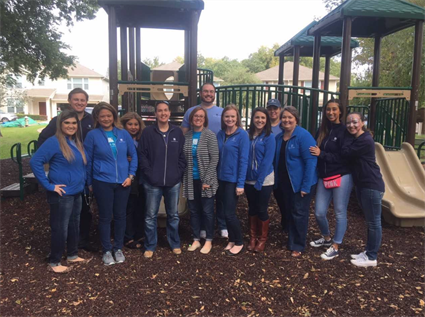 We were thrilled to donate hundreds of supplies to Casa de Esperanza de Los Ninos, a safe place providing care for children in crisis. These supplies will help the foster families, birth parents, and aftercare clients going through Casa's program who were affected by Hurricane Harvey. Our hearts go out to our fellow Texans, but we are honored to be a part of such a strong city filled with so many people willing to help!
Hosting a Halloween Party for Casa De Esperanza
Volunteers from the Arnold & Itkin Foundation visited the Casa de Esperanza neighborhood, hosted a Halloween party and took time to dine with the children, create a Halloween craft, play with bubbles, and more. The Foundation made a pledge equal to the tuition for one of the children enrolled in the program.
Purchase of 30 New Dining Chairs for Family Meals
What makes Casa de Esperanza such a powerful organization is its commitment to giving each child a family environment. Each home in the Casa de Esperanza neighborhood houses 4-6 kids, but even a small number of children will lead to wear-and-tear. They came to us in need of some new furniture, so we bought them 30 new dining chairs for several of their homes.
Hosting the Summer Kickoff Party
Arnold & Itkin had the privilege of spending a few hours with the kids of the Casa neighborhood for their Summer Kickoff Party! We played with water tables, did a summer-themed craft, and enjoyed a delicious lunch. It's always an honor to spend time with these wonderful children and witness firsthand the amazing work Casa de Esperanza does for them.
Donating 20 Boxes of Size 6 Diapers
Diapers (particularly size 6 diapers) are one of the highest nonnegotiable costs for any parent. For Casa de Esperanza, it's no different. That's why in November of 2021, the Arnold & Itkin Foundation donated 20 boxes of size 6 diapers to the organization, providing the organization and parents in need with fresh supplies for their precious kids.
Donating Nights of Activities & Dinner
Running a private neighborhood with multiple homes requires a lot of meal preparation and enrichment activities to keep kids engaged and active. The Arnold & Itkin Foundation did our part by providing Casa de Esperanza with four nights of activities and dinner, providing the kids with nutrition for their bodies and minds.