The RESPECT Contest
Defining Respect for the Next Generation
Each year, the Arnold & Itkin Foundation invites students from Houston Area Elementary schools to participate in our RESPECT Contest. Students are asked to define the word "respect" in two sentences or less, and draw a picture to complement their explanation. The Arnold & Itkin Foundation reviews every entry, and the winning students receive a donation to their school, a contribution to the charity of their choice, and a cash prize for themselves.
We think respect and justice go hand in hand. We started this project hoping to teach kids something about how to treat others, but it turns out, they taught us to have a broader definition of justice, and that has influenced our mission at the Arnold & Itkin Foundation. Jason Itkin
The 2017 RESPECT Contest
In 2017, students from Carpenter Elementary, Deer Park Elementary, Melillo Middle School, and Keller Middle School won donations for their school and their favorite charity.
The charities selected by these students include:
St. Jude Children's Research Hospital
Ima's Home for Children
Elephants for Africa
The Houston Zoo Fund: Saving Animals in the Wild
We hope this program will help inspire our future leaders and citizens to think about what justice looks like on an everyday basis, and how each of us can contribute to securing justice for our neighbors.
The 2018 RESPECT Contest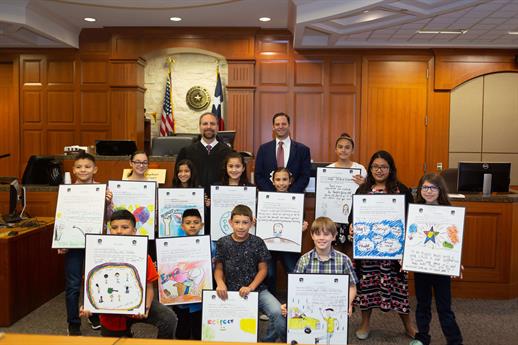 We hosted the 3rd Annual Respect Contest awards ceremony on November 8, 2018 at the Harris County Civil Courthouse. Local 5th grade students were invited to explain what respect means to them, why it is important, and include an illustration to complement their explanation. We chose three winners from each school district who were awarded a cash prize for themselves, a donation to their school, and a donation to a charity of their choice.
The chosen charities were:
The Humane Society
St. Jude's
Save the Children
National Down Syndrome Society
Food for the Poor
PAWS
Make-A-Wish Foundation
Houston SPCA
Matching donations were also made to De Zavala Middle School, Bobby Shaw Middle School, San Jacinto Elementary, Dabbs Elementary, Havard Elementary, Woodland Acres Elementary, and Bayshore Elementary. We were honored to have these students share their thoughts with us and are proud to support them, their schools and the various charities chosen. Congratulations to all of the winners!